Moderator: Moderators
Headmaster City
Posts: 2781
Joined: Sun May 08, 2005 10:32 pm
Location: Palmy
My grapple with thanks to Thatotherguy.
Loving the cartoon aesthetic on the newer MPs.
Unfortunately he's gone straight to a wardrobe as I'm outta space and painting the lounge ceiling
no sig as photobucket nerfed it all
# of TF's: I don't have the patience to count them all
# of GIJoe: I've lost count
---
Pretender
Posts: 541
Joined: Fri Oct 31, 2014 8:16 am
Location: Palmerston North
Despite currently downsizing my collection I couldn't resist getting my hands on this massive beast
---
Decepticon Warlord
Posts: 3459
Joined: Mon Sep 11, 2006 7:52 pm
Location: North Shore, Browns Bay
Oh I'm just about to throw my lot in with Photobucket. Took forever this evening just to get these uploaded.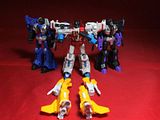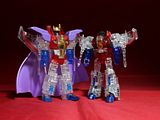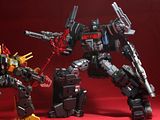 - Hexagear Blockbuster with a Governor Rose for a rider. Sleek and comparatively simple makes for a nifty looking insectoid air bike thingy.
- Hexagear Rayblade Impluse with a Governor Pawn A1 for the rider - nice in concept and looks fantastic. Has this very Zoids-like air to it. However not fun to pose or transform into vehicle mode due to the large number of moving points and pop-off-ey bits.
- Iron Factory Wings of Tyrant Red and Violet to add to last month's Indigo to complete the team. Comes with bonus bits to make part of Sunstorm and Ghost SS (next photo).
- DX9 War in Pocket Usurper Ghost with coronation set. In all honesty DX9's version of the seeker body works far better as the coneheads than as the regular crew.
- Maketoys Thunder Erebus. Nifty and far sturdier on his feet than Legends Ginrai, but perhaps a bit over stylised. I like to think of this as more hero than villain on account of his blue eyes.
- NKF
---
Headmaster City
Posts: 2781
Joined: Sun May 08, 2005 10:32 pm
Location: Palmy
Bbts parcel drop
no sig as photobucket nerfed it all
# of TF's: I don't have the patience to count them all
# of GIJoe: I've lost count
---
TFNZ Administrator
Posts: 11327
Joined: Tue Jun 29, 2004 11:24 pm
Location: Dunedin, New Zealand
Final haul for October
Another Anker Battery Pack, this time direct from Anker
---
Who is online
Users browsing this forum: No registered users and 3 guests