Ok, I found out that I can get some of these.
Its an e-Hobby Black Repaint of THS-02 G1 Convoy, and comes with a couple of extra heads for the orginal THS-02 and extra guns styled on the G2 guns for either version
Sample picture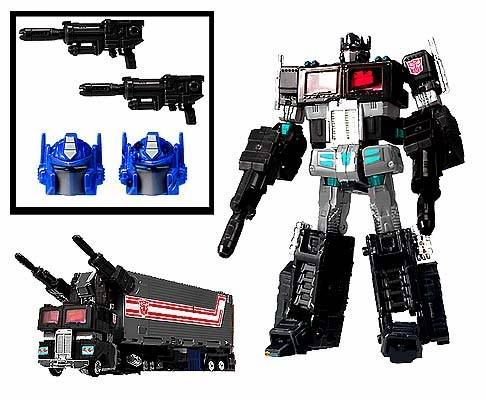 Ok, the rules
I am NOT allowed to cancel this order - not even allowed to think about canceling this order. Now to get a decent enough price per item and to secure, I have to take a gamble and actually order three of these right now. Later on I can add more to the order IF my supplier has any left in stock.
==> Ordering 3 NOW, will have two for sale.
Price is $140NZ each + $5 postage. These are due out around February 2007. Price may change due to exchange rate changes between now and February.
As per recent rules and the extra rules of this order placed on me by my supplier, I require a $30 NON REFUNDABLE deposit to be paid with a week of placing an order here with me. NO CANCELATIONS WHAT SO EVER!
So, whos in?
Zippo x1
HookX5 x1 PAID
o86 x1 $30 PAID
Second Order - unconfirmed
loismustdie x1
Good Riddance x1
Yeti x1